Prithibi v. Bheegi bheegi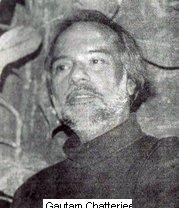 I was appalled. I could not believe my ears as the strains of the song reached me at the Planet M store. How could he do this, I screamed to myself. How could anyone tamper with this most sacrosanct of Goutam Chattopadhyay's compositions, Prithibi? After having found out that the song in question was
Bheegi bheegi
from
Gangster
, I immediately rummaged through the net for details.
Gangster happens to be Anurag Basu's new potboiler, based on the romance between Abu Salem and Monica Bedi, starring Emraan Kiss-me, Shiney Ahuja and some unknown gal, Kangna. I also happened to run into an interview of Gangster's composer, Pritam Chakraborty (of Dhoom, Chocolate and Garam Masala fame), in Telegraph's site, after reading which, my initial dismay seemed to mellow down. I have even started to like the song, I must say.
Pritam was quite effusive in his praise of the maestro and somewhat wary of the reaction. He says, "I could f*** up with other songs but not this one. I was aware of the cult status of the song in Bengal and my challenge was to make the people there like the new version. I hope I haven't done injustice to Goutamda in any way." He also held this song in high esteem, "I remember I used to sing Prithibi a lot on the FTII campus when I was studying there. Then I have played the song many times in my stint as the guitarist of the band Jotugriher Pakhi."
And the best part about this 'Inspiration' was that the composer and producers actually bought the rights of the song from Asha Audio and only then did they go ahead with restructuring the song. (Anu Malik, Bappi Lahiri et al, kindly take note). They even went to the extent of taking the permission of Minati Chattopadhyay, wife of the late Goutam Chattopadhyay.
The known version of the song is sung by the lead singer of Krosswindz, Bonnie. But Gangster's Bheegi bheegi has been soulfully rendered by Bangladeshi rock star James, founder of Nagor Baul. The Gangster team had a tough time tracking down James, which was finally managed by Anurag Basu's mashi, who went to Bangladesh in search of the elusive singer. He had qualms about singing a Hindi song since he didn't know the language. The song was then written in Bangla script and James got totally drunk when he recorded the song. Love the way he pronounces 'Toota Toota' in one of the lines in the song.
THE best number to come out of the Bangla Rock Band stable, Prithibi will always hold a special place in the heart of Bangla rock aficionados. And as I later discovered, Gangster's Bheegi bheegi surely does justice to Goutam da's masterpiece. Just look at it as a tribute to the great man and not as a blatant pilferage. And as for the one's who've never heard of Goutam Chattopadhyay or Mohiner Ghoraguli, just savour the essence of Jibonmukhi Gaan (Songs of Ordinary Life) of the original Bangla band. Just revel in the sheer musical genius of the man who had the nerve to compose this song in the 1970's.